Dance Education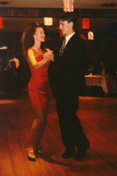 When I moved to Florida to work for Federal Express (information technology), one of my co-workers wanted to take swing lessons but didn't want to go alone. He asked me to go and I didn't put up much resistance. He had chosen the John Parnell dance studio, which is somewhat well known for the father of the Parnell daughters and his ability to coax money out of people and then squander it. While I didn't learn much about dance exactly, I did meet some wonderful people that took me over to a newly forming studio called the Zebra Room.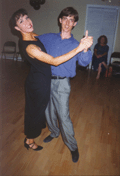 The owner of the Zebra Room, Trish Sie is an exceptional dancer and instructor. I studied as many forms of partner dancing as Trish would teach me. We mostly focused on American Rhythm and Latin. Three years later and a lot of drama, the studio, in a way, came undone. Trish started heading more in the direction of teaching children which led her to create the Snark-a-Snoops now in LA and doing quite well.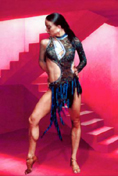 One of my favorite dance teachers is Melanie Sandvig, I worked with her for two to three years and I would have continued if it were not having to down grade my spending habits along with leaving the technology field. Melanie is one of the most successful professional dancers in the Orlando area and happens to be an excellent teacher as well. She is known for her precision understanding of styling and at the same time making it beautiful. She, like the neoclassical artists, understands that precision geometry and creativity combined make the most exquisite beauty.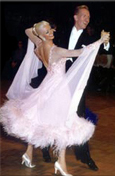 I moved on to work with many of the dance instructors in Orlando finding my real destination in Tampa with Timothy and Michele Mason. They aren't simply the best smooth dancers and instructors in Florida, they are known quite well internationally having originally moved here from England. I worked with Michele for a couple of years; basically until I hit the crossroads with my work as a software engineer verses a yoga teacher and massage therapist. If it were not for exceptional and supernatural events that led me to become part of the community that makes up the Kundalini Yoga Center in Altamonte Springs, I would have moved to Tampa to work for and with Timothy and Michele and help startup their studio, the Easidance Ballroom.
The experiences I've had in the dance world have given me some unusual insights into movement, body mechanics, and alignment. On a personal level, it taught me a great deal about being in someone else's body space and about touch related issues that aren't taught in massages schools.